At Wigs 'n More you'll find an extensive selection of products for mastectomy, lumpectomy, reconstruction, and birth defects.
Our certified mastectomy fitters will make sure your prosthesis fits your size and shape for a natural appearance.  Rest assured that flexibility and freedom of movement are never sacrificed – breast forms have made leaps and bounds over the years, impressively matching the natural breast. Silicone swim forms are now constructed to fit into mastectomy swimsuits where chlorinated or salt water will have no effect.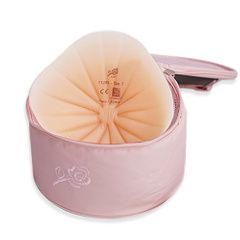 Appointments required for mastectomy fittings and wig fittings.  Please call as at 724-532-1901 to make an appointment or email us at info@wigsnmore.net.We will reserve time so that we can work together in a private area to find the best fitting, silhouette flattering products for you.
Standard Symmetrical Silicone Breast Forms
ABC # 11285 Breast Forms
The ABC #11285 Breast Form offers the shallowest form with the most drape.  It is one of the most versatile on the market with an elongated base to equalize the chest wall. It can be worn on the right or the left, is made of lightweight silicone and is comfortable to wear. This breast form fits easily into most bra cups.
Amoena #400 and # 401Breast Form
The Amoena #400 and #401 Breast Form offers a natural feeling and appearance along with exceptional comfort. It has a natural drape that moves with the body. Made of a lightweight silicone front layer, this breast form has a flowable gel back layer that hugs the body closely and securely. The cashmere-like feel makes it extra gentle on scar tissue and perfect for sports.
Symmetry Shapers/Partials
Symmetry shapers and partial breast forms are often used when plastic surgery is not an option because of irradiated skin, as an enhancer during reconstruction, or as an alternative to multiple surgeries.  Other uses include to adjust for weight gain or loss after reconstruction and to offset an imbalance resulting from natural aging.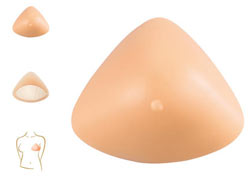 Post Mastectomy Leisure Forms (Lightweight)
Post Mastectomy Leisure Forms are made for shape and balance during the initial healing period. Made of soft, non-irritating fabric and fiber-filled, they are ideal for post-surgery or sleepwear.  Extremely light, they put very little pressure on surgery or radiation sites.
Jillianna Leisure Forms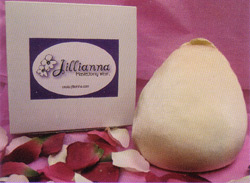 The Jillianna Therapeutic Bead Breast Form has been designed to aid the healing process and appearance of mastectomy and partial mastectomy patients.
This breast form is filled with clustered fiber-fill, massaging caviar beads, and soft tissue-like beads. A 100% cotton back and a silky soft front combine to create a truly comfortable experience. The unstructured therapeutic bead filling responds to a woman's continuous motions, contributing to her whole appearance and providing a sense of balance.
This form is cool, soft, supple, and pliable, not sticky and stiff.  It can be worn with almost any bra.  While in use, your movements cause the breast form to generate a massaging action.  This massaging action assists in the flow of oxygen, carrying blood to the surgery site.
Classique Leisure Forms
Classique Leisure Breast Forms are also very comfortable. Style 095 and Style 045 are leisure symmetrical forms that can be worn on the right or left side. These forms are ideal for lounging, exercising, and temporary wear. They are lightweight and made of a molded polyurethane, seamless fabric which mimcs natural female breast tissue and movement.
Covered, concave back, and hand washable, you can't go wrong with Classique. Classique breast forms provide beauty, comfort, confidence, and complete control.

Insurance
The rules and availability of payment assistance opportunities on mastectomy products are constantly changing. Most insurance covers a portion (if not all) of our mastectomy products. See the list of insurances we accept.
Please don't hesitate to Contact Wigs 'n More for insurance and payment advice on any of our wonderful products. We are here to help you look and feel confident and beautiful through recovery and beyond!
Appointments required for mastectomy fittings and wig fittings. Please contact us to make an appointment.