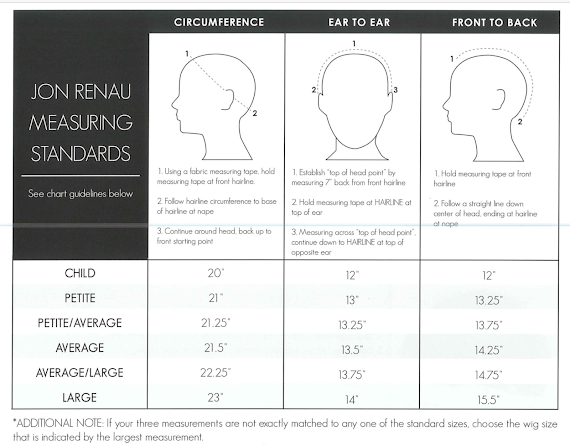 Starting at the natural hairline in front, follow the hairline to just above the ear. Measure around the back to the bend in the neck, just above the ear, then around front to where you began.
Measure from the natural hairline in front, back over the crown to where the head meets the top of the neck.
Starting in front of one ear where the hairline ends, bring the tape measure up and over the crown to the front of the other ear.
Sizes Around the Head Front to Back Ear to Ear Ultra Petite 20 3/4" 12 3/4" 12 3/4" Petite 21" 13 1/4" 13" Petite to Average 21 1/4" 13 3/4" 13 1/4" Average 21 1/2" 14 1/4" 13 1/3" Average to Large 22 1/4" 14 3/4" 13 3/4" Large 23" 15 1/4" 14"
Important: If all 3 measurements do not match up exactly with one size on the chart, select the wig size that corresponds to the LARGEST number circled.
Remember - if you have any questions or would like us to fit you for a wig, stop in and talk to one of our certified fitters today!
Appointments required for mastectomy fittings and wig fittings.  Please call as at 724-532-1901 to make an appointment or email us at info@wigsnmore.net to arrange a private fitting so we can get you looking your absolute best!