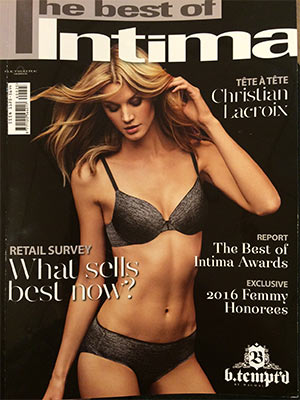 It is an August evening in New York City, a rooftop venue. As cocktails are served, the attendees buzz with excitement! Intima Magazine, the premier trade publication for intimate apparel prepares the crowd for The Best Of Intima Awards – an annual industry-wide recognition of independent retailers in Lingerie, Loungewear, and Swimwear who have consistently demonstrated a level of excellence that sets them apart from all competitors.
Out of 350 nominees, only 37 finalists are selected. This group represents retailers from both the US and Canada who have been chosen as innovators and leaders; the best that these countries have to offer! It is a tremendous honor for Kathy Hedrickson, owner of Wigs 'n More to once again be included in this elite class.
As with any contest, not everyone can receive a prize. The suspense continues to grow as Intima Magazine Editor Francesca Spinetta says a few words about the prestigious Best of Intima Awards and the successful entrepreneurs that are gathered. Finally, the time has arrived for the best of the best to be revealed! Wigs 'n More and Mastectomy Boutique walks away with the Best Pink Store Award an honor, indeed! Especially in light of the fact that Kathy and her staff are wholly dedicated to helping women who have undergone mastectomy, lumpectomy, reconstruction or various treatments for cancer to face whatever challenges life has in store for them with a smile and a measure of confidence.
Kathy and her staff of trained and talented women invite you to the Latrobe boutique to experience for yourself the knowledge, excellent selection and individual attention given to every woman who walks through their door. Please call and make an appointment today!