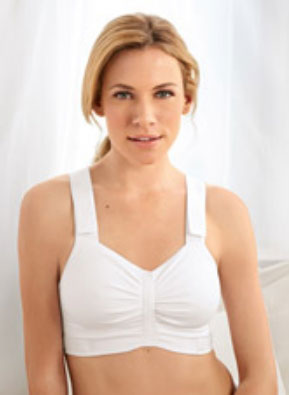 If you are facing any sort of breast surgery, we can't stress the importance of a good post-surgery bra enough! You will need a quality bra that offers support for mastopexy and augmentation for mammoplasty. A well-made, properly fit bra can help reduce pain, lessen swelling, and decrease overall recovery time.
Amoena Theraport 2161 Radiation Therapy Garment
Our customers adore Theraport Surgical bras – we've sold more than we can count! The Amoena Theraport bra is ideal for augmentations, reconstructions, lumpectomies or mastectomies. It compresses just enough and fits like a glove. The soft and absorbent fabric helps prevent painful agitation and wicks away perspiration. Adjustable straps make each bra fit like it was tailor-made. Soft, discreet pockets hold breast forms with ease.
Amoena Compression Belt 2776
The Amoena Compression Belt is specifically designed for use immediately after breast augmentation surgery.  It helps keep implants securely in place and helps prevent them moving upwards.  The belt is automatically shaped to follow the contour of the body with a Velcro front closure for ease in adjusting for a secure fit.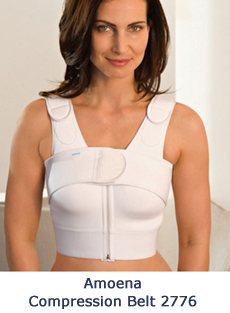 Coobie Bras
Many have said the Coobie is the most comfortable bra ever – and we can't argue. These bras are ultra comfortable, supportive, and inexpensive. Coobies are all seamless, so no hooks or clasps – the back is totally smooth. Each has removable pads and the straps are adjustable.

Garment Care
To prolong the life of your garment, avoid using harsh detergents and fabric softeners.  Instead, use a gentle and mild fabric care wash, such as Forever New.