Mastectomy Recovery Garments
Amoena Hannah Post-Surgery
Camisole 2860
The Amoena Hannah Collection, designed for wear immediately after breast surgery, is made of a soft, soothing cotton fabric that delivers natural benefits to pamper the skin, aiding in healing and comfort.
Gentle, yet snug fabric lies flat against the torso
Easy to use zip-front for ease in putting on and taking off while recovering range-of-motion
Elastic straps fasten in front for easy access during treatment, such as radiotherapy
Packaged with two fiberfill leisure forms to restore balance during the healing process
Packaged with two removable drain pouches for use with Jackson-Pratt®, Hemovac® and other drain management systems to ensure safety, convenience, and comfort after your surgery
Amoena Hannah Post-Surgical Mastectomy Bra 2160
This is a front closure leisure bra designed for wear immediately after breast surgery. Like the Amoena Camisole, it is made of a soothing cotton fabric that delivers aid in healing and comfort.
Microencapsulation technology infuses tiny spheres of Vitamin E and Aloe into the fabric for continuous release
Enhanced stretch and recovery properties of the fabric enable the microcapsules to release the soothing and scar healing benefits to the skin's surface.
Vitamin E and Aloe, both known to help minimize the appearance of scars, work together to bring comfort and healing after breast surgery.
Post Operative Bras
The after-surgery experience can be uncomfortable and even painful without the appropriate garments. In the interest of your safe and pain-free recovery, we offer post-surgery undergarments and clothing. Drain pouches to compression, front closure, and soft cotton, these garments are packed with features to make your recovery time easier and more comfortable.
Extra Tip:  Buying two bras allows you a clean bra while the dirty one is being washed.
This is something to consider especially for the duration of recovery!
Amoena Theraport 2161 Radiation Therapy Garment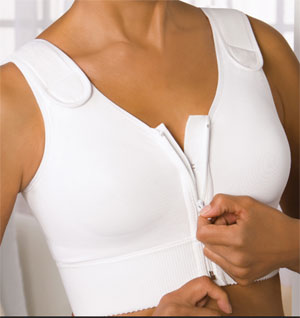 Ideal for augmentations, reconstructions, lumpectomies or mastectomies, the Theraport Bra is a hot item. It compresses just enough and fits like a glove. The soft, touchable fabric helps ease pain and accommodates perspiration. Pockets hold breast forms with ease. This is an ideal bra for any breast surgery.
Amoena Patricia 2863 Compression Vest
The Patricia front closure compression vest is a light compression vest featuring a brushed, plush-feeling fabric that wicks moisture away from the body and dissipates body heat. The zip-front closure allows for ease in dressing and locks firmly in place. The hook and eye interior packet offers even more security. Velcro cushion straps have adaptable positioning for ease in dressing the patient and/or accessing ports. Pockets with a Naturexx finish wick moisture for extra comfort.
Amoena Valletta Surgical Camisole Tops
The Valletta camisole top is smooth and soft. For a limited time only, red, aqua, and blue are available as well as the normal black and white.  With a pocketed shelf bra featuring molded foam cups for shape and support, this camisole gives a natural and fashionable look. The side lace detail adds just the right touch of style without compromising a smooth and seamless look.
Soft modal pockets are smooth against the skin and hold a leisure form, breast form, or symmetry shaper in place.
Bra sizes:  34-44A; 32-44B; 32-42C; 32-40D; 32-38DD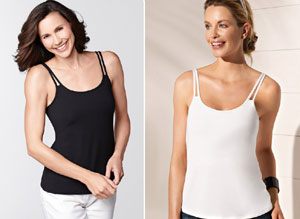 Insurance Coverage
Amoena post-operative garments may be covered by Medicare and private insurance depending on individual policies. Check out our Insurance page to see if we handle your provider!
Contact Wigs 'n More Today!
Regaining your confidence in the face of serious illness is no small task. Our certified fitters understand a woman's personal health care needs and will help you make choices that are right for you.  Call us at 724-532-1901 or use our Contact Form.