Wigs 'n More offers an outstanding selection of bridal wear, from strapless bras and shapers to comfortable shoes for the whole bridal party. We are always looking for the best products at the best prices for you – you can rely on our decades of experience to help you look stunning on your big day!
Call Wigs 'n More for more info at 724-532-1901, or Contact Us for more information.
Freya Deco Nude Molded Strapless Bra
Freya Lingerie's Deco Nude Molded Strapless Bra is a bridal favorite. It offers stylish functionality for a flawless shape. This strapless bra gives fantastic cleavage with a sexy low front plunge and gripper elastic for increased support and anchorage.
Fantasie Smoothing Seamless Strapless Bra FL4530
This fashion essential is one of the best-kept secrets at Fantasie, and Wigs 'n More has it! No bride should be without the smooth shape and exceptional support this bra has to offer!
Goddess Bridal Wear Bras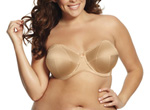 The Goddess Marilyn Nude Underwired Strapless Bra provides ultimate confidence and is available in two beautiful colors. Marilyn's ultra-supportive satin simplex gives you reliable support in all the right places for those days you dare to show a bit more.
Goddess Lace Longline Bra
The Goddess Lace Longline Bra satisfies your fuller figure with a flawless fit. Goddess bras are designed with a generous cut to flatter and support full busted women. Choose from a wide array of styles for every aspect of your life.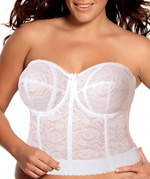 This strapless underwire bra features seamed, molded cups with vertical boning for support and adjustable stretch straps included. Stretch microfiber lace makes this piece the ultimate in comfortable luxury.
Elomi Smoothing Nude Underwired
Looking for the ultimate in shaping and support? The Elomi smoothing collection delivers an essential must-have addition to any lingerie wardrobe. The beautiful shape of this foam molded strapless bra offers a lower neckline without compromising on fit or fashion choices.
Le Mystere Sculptural Strapless 2755 Push Up Strapless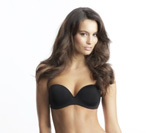 We've heard the Le Mystere 2755 Push Up Strapless called the go-to strapless bra for everything! The 2755 features removable straps to accommodate every outfit. A deep plunge in the center accommodates low cut shirts, while power mesh wings and three hooks in back provide extra support. Silicon on the wings help keeps this bra in place.
OKA b Bridal Shoes

---
OKA b has created a beautiful and comfortable alternative to high heels on your wedding day.
These shoes will keep you dancing all night long, taking your feet on their own delightful "honeymoon." These flat shoes can be worn with the ease of slippers, but they'll go brilliantly with your wedding dress! Don't wait. Contact Wigs 'n More today to see how OKA b Bridal shoes can make your special day even more fantastic!
Call Wigs 'n More today at 724-532-1901, or Contact us for more information.