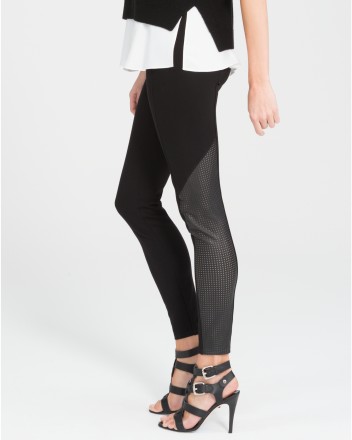 SPANX brings you over 100 different styles of the latest in slimming, comfortable body shapers, pantyhose, intimates, and apparel. SPANX products are designed by a woman and crafted to promote comfort and confidence in women.
If you have ever purchased clothes that looked amazing on the hanger or in an ad, but in actual use magnified every panty line and imperfection, SPANX is for you!
Wigs ''n More is proud to offer a wide variety of SPANX products. Stop by today at our Latrobe, PA location to see the style of SPANX that works best for you.
Body Shapers and SPANX Undergarments
The SPANX collection also includes hosiery, socks, body smoothers, bras and panties, slimming intimates, maternity, plus sizes, and apparel, including pants, tops, tanks, and skirts.
SPANX styles always fit contemporary  fashion trends and modern female lifestyles!
Spanx offers both seamless and cut & sew leggings.  The seamless leggings are ultra comfortable and easy to wear.  The cut & sew leggings are on trend, versatile and comfortable; the new go-to leggings!
Contact Wigs 'n More today with any questions you may have about SPANX products, or visit our Latrobe location to see this amazing line of pantyhose, body smoothers, and body shapers for yourself.
Our In-Stock Spanx Inventory Includes:
Higher Power Briefs
High Power Capri
Power Shorts
Power Panties
Super Power Panties
 The Story of Spanx
One night in 1998, in search of the right undergarment, Sara Blakely cut the feet out of her pantyhose and wore the result with white pants and open-toed shoes. At that moment, Sara knew she had a million-dollar idea.
Within seven years, this former salesgirl turned her initial $5,000 investment into more than $150 million in retail sales. Today, SPANX has 55 employees, 100 different styles, and four patents. Sara is turning her attention to giving back by helping women globally with education and entrepreneurial support!
Sara Blakely received the Ernst & Young Entrepreneur of the Year Award in 2002 and appeared on a 2004 reality television show titled The Rebel Billionaire: Branson's Quest for the Best. During the second season of American Inventor, Sara appeared as a panel judge.
Contact Wigs 'n More to learn more about SPANX and how these revolutionary body shaping products can help you look your best.